The items made of the fabric with the much-loved pattern of juicy strawberries and cute bunnies has come back with the new style♡

The dress is decorated with plenty of lace and ribbon bows. It's so lovely with the ribbon in the same red color of strawberry♪
Please enjoy the strawberry styling with the matching headband and socks.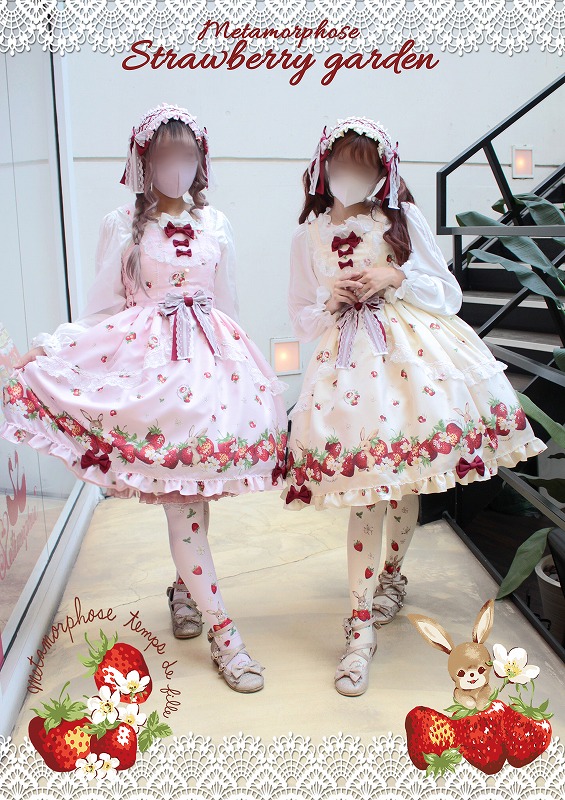 Strawberry Garden
Pre-Order Starts
Online : around 5:00 p.m. on May 21st (Fri) (JST)
In-Store : opening time on May 22nd (Sat)
 
Estimated Arrival Date: August - September 2021

* Schedule may change.
* Quantities are limited for the pre-order.
* The end of the date of the pre-order is not settled yet.


Products:
- Strawberry Garden Frill Dress (Regular Size, Plus Size)
- Strawberry Garden Headband
- Strawberry Garden Printed Over the Knee Socks

* The dress comes in 2 sizes, Regular Size, and Plus Size.
Please check the size on each product page before placing an order. You cannot change size after placing a pre-order.

 

Announcement Regarding COVID-19 and Current Operations
Before placing an order, please read this announcement.
https://metamorphose.gr.jp/en/metamornews/128040

About Payment
< Payment Due >
Please make a payment within a week of ordering.

< About Payment at Online Shop >
* Please make payment in full when you place an order.
* Please choose a payment method from a list below if you are an international customer.
 [Acceptable method of payment] PayPal / Credit Card / China UnionPay / Alipay
* If you don't complete payment, your order will be cancelled automatically.
< About Payment at Stores >
* You can choose full payment or deposit for pre-order. For details, please ask our clark.

About the Pre-Order at Stores
We will start accepting pre-orders from opening time of each store on the release date.
Please refer the each store's "ACCESS" page on the Shop List. There is an information how to pre-order the new items in case that a store asks you to wait in line to place a pre-order them.
* The details about the launch will be posted on the each store's Twitter.

About Inquiry and Waiting List
If the item you want is out of stock at online shop, please contact us via "Inquire about this item" button on each product page.
* On the inquiry page, please choose "Order" as your inquiry type.
* Please let us know whether you would like to put your name on the waiting list if the item you want is sold out at all stores.
* We will reply you within a few business days.
»Order Online♪