【 Metamorphose Laforet Harajyuku ★ Announcement of Summer Sale Part 1 】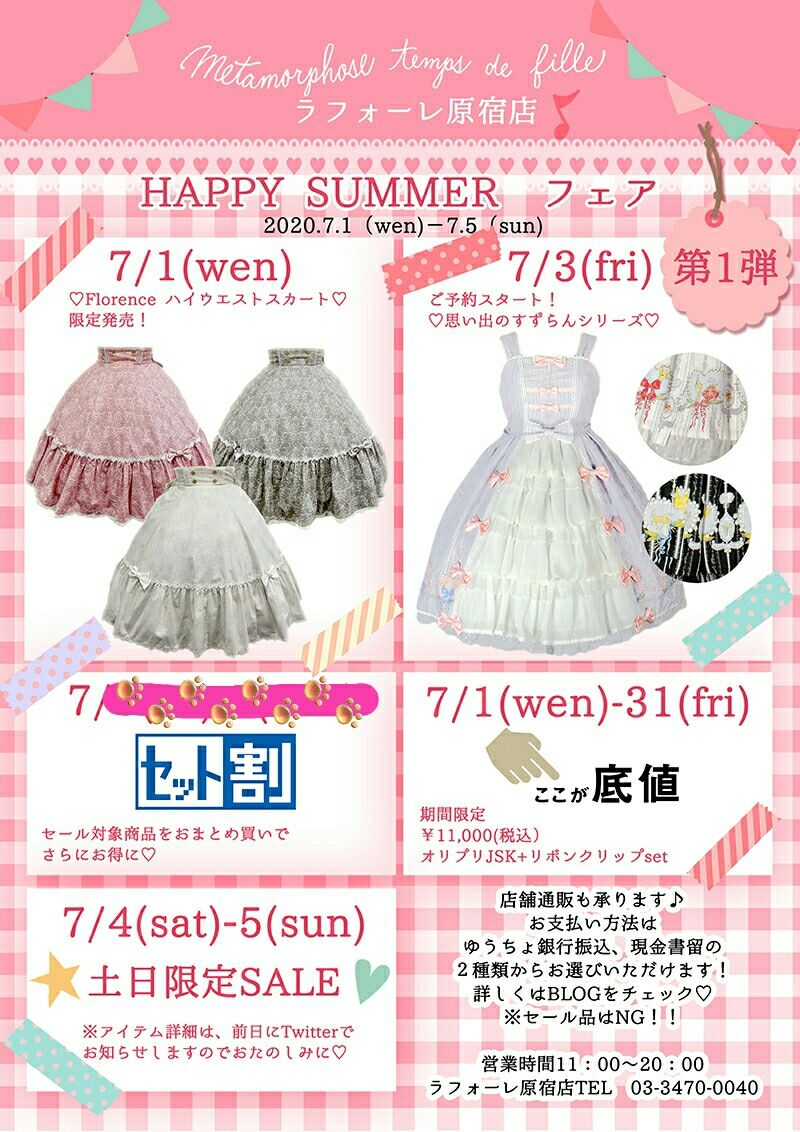 Thank you for shopping at Metamorphose.
We will hold a exclusive event "Happy Summer Fair" at Laforet Harajuku store!
We also offer limited products and bargain plans ★
First of all, here is the first information.

*Opening hours are shortened from 11:00 to 20:00 for the time being.
*:..。o○☆゜・:,。*:..。o○☆*:゜・:,。*:..。o○☆ *:..。o○☆゜・:,。*:..。o○☆*:゜・:,。*:..。o○☆
★ Schedule for New Item ★
> July 1st exclusive sale !!
Laforet Harajyuku
<Release Date>
July 11th (JST)
In-store* 11:00 / Telephone* 11:30
We also accept store mail order♪
◆Florence High Waist Skirt
¥19,800 <tax included ¥21,780>
color* Ivory / Pink / Gray
<<Size;>>
Waist: 65cm(25.5in)~about approx. 95cm(37.4in)
Skirt Length: 54.5cm(21.4in)
>July 3rd 11:00~ (JST)
Reservation start of new series "May Bells of Memories"
>July 11th 11:00~ (JST)
Exclusive sale of "Dozing Cat Series"

Please check the link below for the details.
https://www.metamorphose.gr.jp/metamornews/16179
*:..。o○☆゜・:,。*:..。o○☆*:゜・:,。*:..。o○☆ *:..。o○☆゜・:,。*:..。o○☆*:゜・:,。*:..。o○☆
★ Schedule for Exclusive Sale ★
①From July 1st to 31st

【This is the Lowest Price】
The set of <<Original printed dress and ribbon clips;>> will be all ¥11,000(tax included) for the limited time.
②From July 3rd to 5th

【Set Discount】
The 30~50% off items will be ...
10% more discount if you get 2 !
20% more discount if you get 3 or more !
③From July 4th and 5th

【Only at Laforet Harajyuku】

♪Exlusive for weekend ♪
20% off some items not on sale! !!
*The items will be change every week.
*:..。o○☆゜・:,。*:..。o○☆*:゜・:,。*:..。o○☆ *:..。o○☆゜・:,。*:..。o○☆*:゜・:,。*:..。o○☆
We will try our best to prevent COVID-19 infection so that our customers can do shopping comfortably.
• Measurement body temperature and hand sanitizing of our staff
• Using a tray at a register, and keep distance between customers in checkout line
• Using a face mask and disinfecting with alcohol in our stores

For the health and safety of all of our customers and employees, please follow the instructions below.
•Please wear a face mask when you visit our store.
 (We might refuse the customer visiting without a face mask.)
•To limit the number of people in our store, we might ask you to wait.
•Please keep distance between customers.
•Please make your dwell time in our store as short as possible.
•The fitting room is closed. You cannot try accessories and hair accessories on.
•We will attend a customer minimally to reduce a contact and keep a social distance.
•Please use the hand disinfection at the entrance of building and our store.

Thank you for your understanding and cooperation.