【 Metamorphose Nagoya ★ Announcement of returning to the regular opening hours 】
Thank you for your loyal patronage.
Metamorphose Nagoya's opening hours will return to normal from June 16th.
< Opening Hours > 10:00 a.m. - 8:00 p.m.
* Please check the latest information on Metamorphose Nagoya's Twitter
We will try our best to prevent COVID-19 infection so that our customers can do shopping comfortably.
• Measurement body temperature and hand sanitizing of our staff
• Using a tray at a register, and keep distance between customers in checkout line
• Using a face mask and disinfecting with alcohol in our stores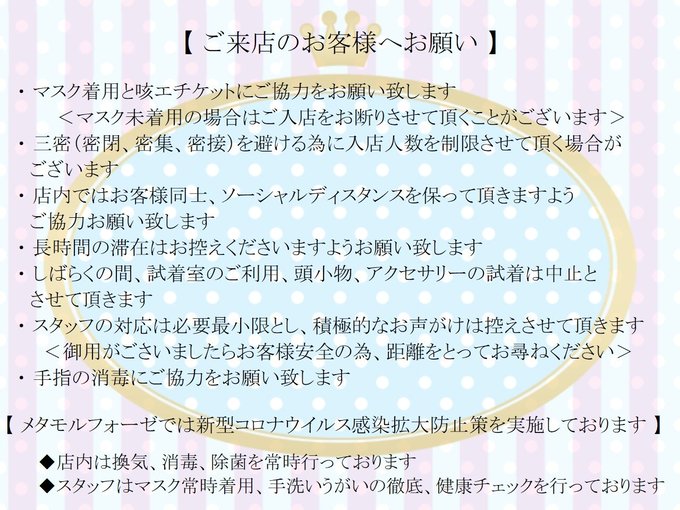 For the health and safety of all of our customers and employees, please follow the instructions below.
•Please wear a face mask when you visit our store.
(We might refuse the customer visiting without a face mask.)
•To limit the number of people in our store, we might ask you to wait.
•Please keep distance between customers.
•Please make your dwell time in our store as short as possible.
•The fitting room is closed. You cannot try accessories and hair accessories on.
•We will attend a customer minimally to reduce a contact and keep a social distance.
•Please use the hand disinfection at the entrance of building and our store.

Thank you for your understanding and cooperation.