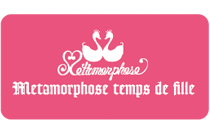 Metamorphose is an adorable brand of Lolita fashion made for everyone, best described as EGL or Elegant Gothic Lolita.

Almost everyone has the desire to "transform" one's self, be it into an angel, someone who is more elegant, or even back to the time they were a little girl. With this concept in mind, we created the Metamorphose brand. In order to assist you in your "transformation", while not being a slave to the current fashion, we continue to conceive cute EGL fashion

Our brands official name is "manifesteange metamorphose temps de fille". "Manifesteange" means the advent of an angel. "Metamorphose temps de fille" means the time of transformation into a little girl. We used French as a base to coin this phrase. Because we "invented" the name ourselves, we feel there are so many different nuances and connotations that can be read into it, and we invite you to create your own.
1993

Our first designer started her own free-lance brand

1997

Our company President established "Metamorphose" in Kyoto.

1998

The company moved from Kyoto to Osaka, opening a retail store in Osaka.

1999

Opened stores in Nagoya, and Tokyo (Harajyuku). (Later Fukuoka, Tokyo (Shinjyuku), Hiroshima, and Sapporo branches also opened)

2000

Changed corporate structure to Metamorphose temps de fille, a limited corporation

2002

Changed name to Metamorphose, a limited corporation