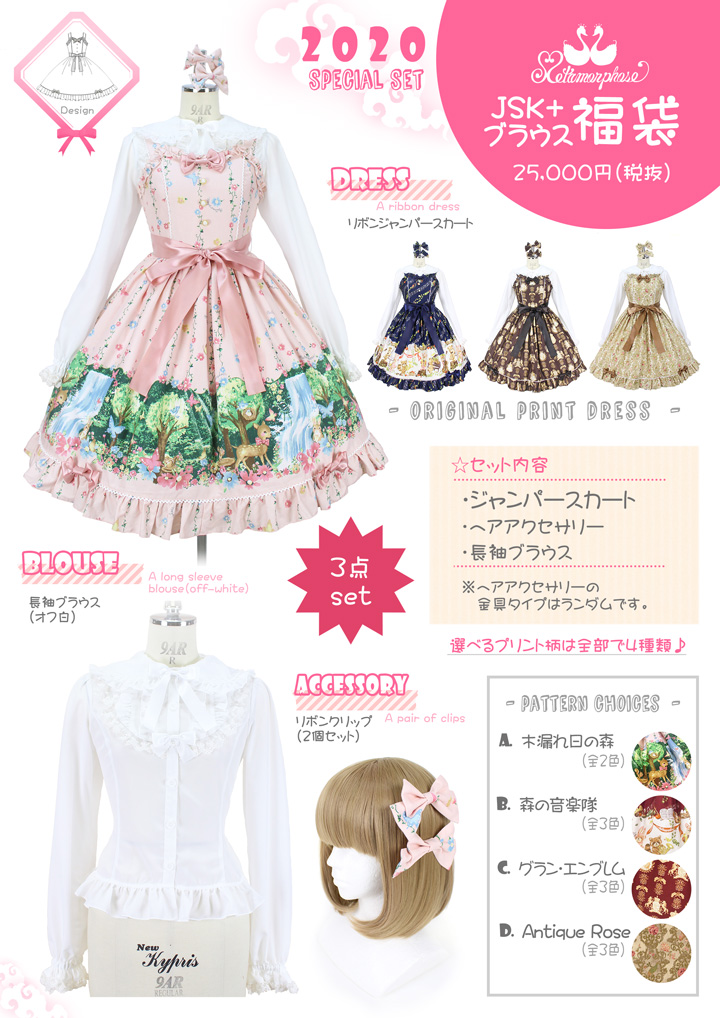 ★ Metamorphose Special Set 2020 ★
Thank you for shopping at Metamorphose.
We have the special set for this winter again♪
Plus, the pre-order will be accepted at all brick-and-mortar stores! Don't miss this chance to get the special set☆

< Set Details >
Dress & Blouse Special Set¥25,000 (tax excl.)
• 1 dress
• 1 blouse
• 1 pair of ribbon clips (set of 2)
< Pattern & Colors >
★ Lovely Forest (2 colorways)
• Off White
• Pink
★ Band in the Forest (3 colorways)
• Bordeaux
• Deep Blue
• Brown
★ Noble Emblem (3 colorways)
• Bordeaux
• Navy Blue
• Brown
★ Antique Rose (3 colorways)
• Off White
• Antique White
• Pink
* The pattern of the dress and the ribbon clip will be the same.
* The color of the blouse will be "off white" in all set.
* Please choose the pattern and the color when you place an order/pre-order.
< Launch Date >
December 25th (Wed)
• Official Online Shop
• Metamorphose at Rakuten
January 1st (Wed)
• Metamorphose Laforet Harajuku
January 2nd (Thu)
• Metamorphose Shinjuku
• Metamorphose Nagoya
January 3rd (Fri)
• Metamorphose Osaka
• Metamorphose Kyoto
* Please contact to each store about the launch at the agency.

< Pre-Order at Stores >
Metamorphose directly managed stores
* The pre-order for the special set will NOT be accepted at the official online shop and the Rakuten store. Please place an order on or after December 25th (Wed).
< Pre-Order Period >
December 21st (Sat) ~
* Quantity is limited.
* The pre-order is accepted at Metamorphose Laforet Harajuku ahead of other stores.
< Important Notice >
* You can pick up the special set on or after the launch date of each store.
* Payment must be made in full at the time of order/pre-order.
* Please pick up the special set by January 7th (Tue).
 
< Notice about the online order >
* The order may be shipped on or after January 6th (Mon) depending on the time of order acceptance.
* Please note that there is a possibility of the delay in shipment during the New Year holiday season.
For the details