★Announcement of the Calendar Fair★
Thank you for shopping at Metamorphose.

At this annual fair, we have the "Metamorphose Original Calendar 2020" for you
*:..。o○☆゜・:,。*:..。o○☆*:゜・:,。*:..。o○☆ *:..。o○☆゜・:,。*:..。o○☆*:゜・:,。*:..。o○☆  
Fair Period
• Metamorphose directly managed stores: opening time on November 23rd (Sat) ~
• Metamorphose Official Online Shop & Rakuten: around 5:00 p.m. on November 22nd (Fri) (JST) ~
Stores
• Metamorphose directly managed stores
• Metamorphose Official Online Shop
• Metamorphose at Rakuten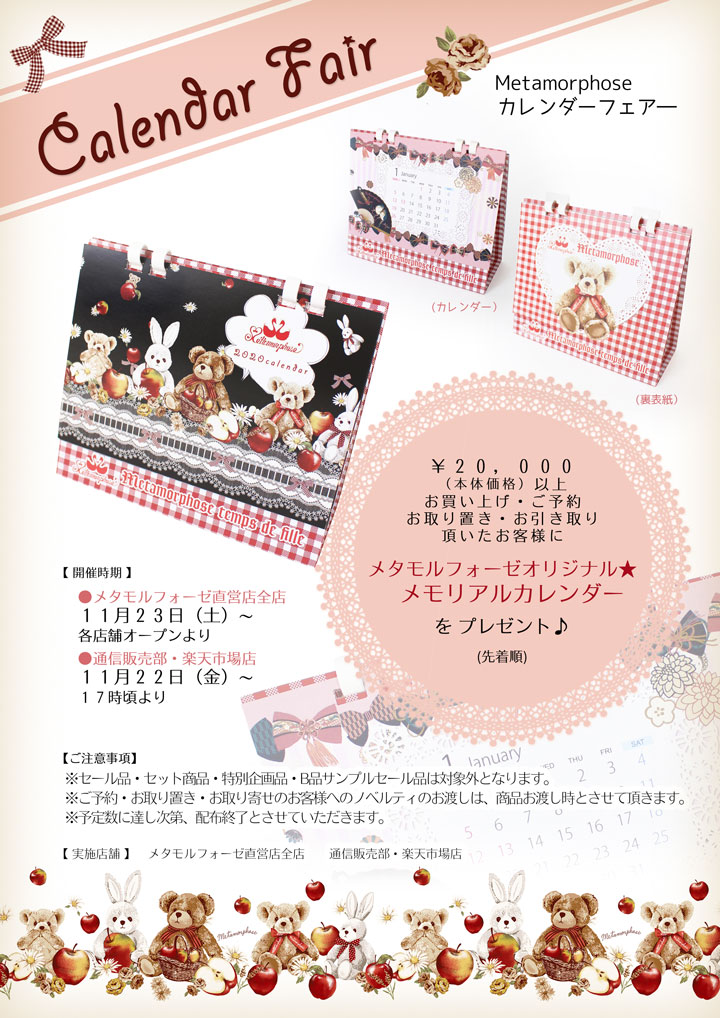 Buy ¥20,000+, Get the calendar!
If you purchase 20,000 JPY or more**1, 2,
you will get the "Metamorphose Original Desk Calendar 2019" on a first-come-first-served basis♪

* The quantity is limited.
* Sale items, packaged items, special items or B-grade sample products or the past due payment for layaway items are exempt from this offer.**3
* You will get the calendar when you receive your order, if you back-order items or use a layaway plan.
* At online shop, this offer is only for the new orders and pre-orders placed during this fair period.

**1 The "purchase" includes "normal orders for items", "orders for items on layaway", "back-orders" or "payments for layaway items".
**2 The applicable amount is the total of base price in one order that does not include shipping, consumption tax etc. We do not add up the amount of your several orders.
**3 The layaway plan is available only for domestic customers.
*:..。o○☆゜・:,。*:..。o○☆*:゜・:,。*:..。o○☆ *:..。o○☆゜・:,。*:..。o○☆*:゜・:,。*:..。o○☆  
(12/20 updated) All of the calendars for the order at the official online shop had been distributed. Thank you.
*:..。o○☆゜・:,。*:..。o○☆*:゜・:,。*:..。o○☆ *:..。o○☆゜・:,。*:..。o○☆*:゜・:,。*:..。o○☆  
We are looking forward to your order☆