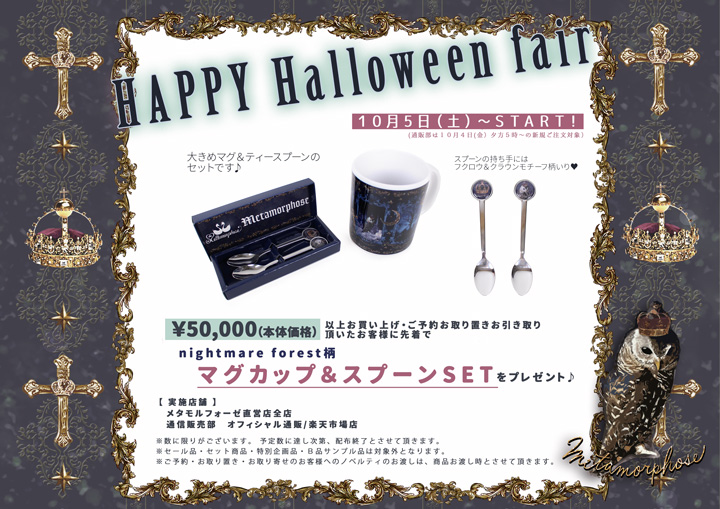 Thank you for visiting our website.
October has come and Halloween is coming up soon★
We have a special gift from the matching latest popular collection for you♪
:..。o○☆゚・:,。:..。o○☆*:゚・:,。*:..。o○☆ :..。o○☆゚・:,。:..。o○☆*:゚・:,。*:..。o○☆
< Fair Starts >
Online: 5:00 p.m. on October 4th (Fri) (JST)
?* This offer is for the new orders placed on or after the time above.

In-Store: opening time on October 5th (Sat)

< Stores >
•Metamorphose directly managed stores
•Metamorphose Official Online Shop
•Metamorphose at Rakuten
You will receive the Metamorphose original "nightmare forest mug & spoon set" if you purchase**¥50,000 (tax excluded) or more on a first-come-first-served basis♪
** make a payment for the following type of order: regular order / pre-order / back-order / layaway order at a brick-and-mortar store / pick-up the reserved items
** The amount excludes the shipping cost.
* Quantity is limited.
* The items below are exempt from this offer.
?discounted items / set items / items for the special event / B-grade products / sample products / picking-up overdue layaway items
* You will receive the novelty set when you receive the purchased items, if you place a layaway order, back-order or pre-order.
* At the online shop, the layaway order is exempt from this offer.
:..。o○☆゚・:,。:..。o○☆*:゚・:,。*:..。o○☆ :..。o○☆゚・:,。:..。o○☆*:゚・:,。*:..。o○☆
Please get the special item on this occasion♪

We are looking forward to your shopping with us.

Happy Halloween